Brahmani  Mata Mandir-Ratangarh
Location: 
Ratangarh is a Tehsil in Churu District and comes under Bikaner Division and located 50 KM from Churu, Loonach, Nosariya, Sangasar, Ladhasar, Gorisar are the Villages and Rajaldesar, Fatehpur and Harsawa are the nearby Cities to Ratangarh.  Postal head office is Ratangarh and Pin code is 331022.
History of Ratangarh:
Kushan ruler a descendant of Rama's son Kush:
Ratangarh is also known as Kashi of Rajasthan. In ancient times it was part of the Jangal county and the Bagad county. The history of Ratangarh and its culture is very ancient.
The Kushan Empire emerged in Kabul in the first century AD. The Kushan rulers consider themselves descendants of Rama's son Kush. Over the period, Kushan name slowly changed to Kaswa. The Kaswa Jat named Kohla came here in the 11th century and ruled Ratangarh and Churu. He built the city of Ratangarh and named 'Kohlasar' after his name.

Reason to Worship Well:
The Rigveda mentions a river named Kusava which was later known as Kunar. The Scythian Jats gave names to the rivers Kunar, Kumal, Kurram, Kunar, and Kunihar. These rivers are in Pakistan and Afghanistan. In Scythian
Jat's language 'KU' means 'water'. At time of a birth of child, Jat community had the tradition of worshiping a well (Kuwa). As there are no water body or rivers now in many regions Rajasthan, the well becomes a symbol of water and is consiodered sacred.
Kanishka (127–162 AD) extended his kingdom to Mathura.  Kswan Jat's head Kanwarpal came to Sidmuk in August 19, 1068 and he ruled 400 villages. After Kanwarpal, Kohla was the ruler of Sidhmukh and he built the city name Kohlasar.
Ratangarh: At the end of the Kushan rule, the Yuodhyayas became rulers, the name changed to Johia in the interval of time. They were the ruler of Bikaner division before the arrival of Rathores. At the end of the 12th century, the Sihag dynasty occupied surrounding the land of Pallukot and Dadreva. Ratangarh was under him. Conflict took place at Sihag and Rathore near Ratangarh. When Sihag Jats lost their ownership from here, Rathore Naresh Surat Singh named it Ratangarh after his son Ratan Singh.
Sati Memorial Inscription:
According to Dr. Gopinath Sharma, an ancient Sati Memorial inscription of Rathore's Samvat 1309 (1252 AD) is found in Hudera Jogian Ka Bass near Ratangarh Railway Junction.  This monument is about one and a half feet long and 8 inches wide. There is a statue of a horseman with a Khanda or sword in his hand and a woman standing folded hand in front of him. Beneanth there is an inscription," On Samvat 1309 Vaishakh Sudi 1, Rathore Narharidas wife, Kisana who belongs to Pohad (a branch of Bhati Jat) is become Sati."
This inscription proves two things:
This indicates that there were the matrimonial relations between Rathores and Bhati Jats and the practice of sati was also prevalent.

The time of the principal promoter of the Rathore branch, Rawasiha from Devali, is believed to be c. 1330 (1273 AD), but the dominance of the Rathores is even more ancient than we think.
Address:
Brahmani mata- Pallu wali Mata,
Ratangarh, Rajasthan- 331022
Phone: 094622 28898
How to reach Ratangarh:

By Rail:

Ratangarh West Railway Station

By Road:

Jaipur- Ratangarh: NH52 and NH 11/NH58 : 3 h 5 min (194 km)
hese routes have tolls.

 Jodhpur– Ratangarh:  NH62 and NH58 -5 h 41 min(300 km)

These routes have tolls.

Pilani-Ratangarh: MDR 82 and MDR30 – 2 h 50 min (141 km)

These routes have tolls.

 

Ratangarh -Shree Pallu Wali Brahmani Mata Mandir: Take Ram Chandra Park Road:11 min (3.9 km)

There are two Brahmani mata mandirs, between 1min. distance.
Ratangarh Bus Stand
Ratangarh – 331022: 1.6 K.M.
Kansujiya Ki Dhani Bus Stand
Churu- 331001: 7.0 K.M.
Gogasar Bus Stand
RJ SH 7; Gogasar- 331504: 16.4 K.M .
Gandhi Chowk Bus Station
Gandhi Chowk Road; Rajaldesar-331802:16.4 KM
References:
photo Hemant  Sharma & N.  Sharma

Jatland.com

thakur Deshraj

Dr. Gopinath Sharma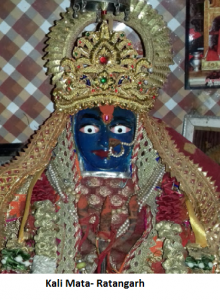 Request:
If you have any information or photographs related to Ratangarh, Brahmani Mata or of any other temple on this website, kindly share with us. We will update the information and the credit will duly be given to you. The purpose of this site is to present all the information about Brahmani Mata Temple in India in one place to ease search and information for her devotees or Bhakts in India and abroad.