Brahmani Mata Mandir-Morbi
Location:
Morbi is located on the banks of river Machchu, just 64 kilometers from Rajkot. Before independence, this indigenous state was under the authority of the Eastern Kathiawad sub-agency. Its area was 822 square miles. The ruler Padvi Thakur was a Jadeja Rajput and considered himself a descendant of Rao of Kutch. On 15 February 1948, it was merged into Gujarat. Mayuradhwaj was the king of Morbi.
Destroy by flood twice:
Morbi was deserted due to the 1979 flood. All its historical monuments were destroyed by the flood. But now Morbi has once again set himself on the strength of the factory to make tiles and watches. Morbi was the capital of the ancient Jadeja Rajputs. The Machhu Dam broke due to heavy rains in the medieval period. Even today, folk songs are sung expressing the prophecy of the massive destruction in Morbi.
The present city configuration of Morbi is a gift of Waghji. He ruled here from 1879 to 1948 AD. Like his other contemporary rulers, Sir Waghji also built, roads and railways connecting the seven miles long Wadhwad and Morbi. He also built two small ports Navalakha and Vavaniya to export salt and cloth. The railway station of Morbi is a beautiful example of architectural style, in which a unique confluence of Indian and European architecture is seen. There are many Tourist attractions but these are special:
Mani Temple
Statues of Lakshmi Narayana, Mahakali, Ramachandraji, Radha-Krishnaji and Shiva lord remain in this temple called Mani Mandir. The temple of Mani is made of Jaipur stone, in which the work of carving, lattice, canopy, pinnacle, and carvings are done with great beauty.
Flaccid pool
Morbi rulers built a bridge on Machhu River. The Unique feature of this: the bridge is made of marble and the length is 1.25 meters and width is 233 meters.
Address:
Brahmani Mata Mandir,
Old Morbi, Gujarat 363641
How to reach Morbi:

By Air:

The nearest airport to Wankaner:

Civil Airport (RAJ), Rajkot, (Wankaner-39 km away)

Govardhanpur Airport (JGA), Jamnagar, (Wankaner – 98 km away)

 By Rail:

Railway Station: Wankaner Junction (WKR)

The closest railway station is at a distance of Wankaner (27 km).

There are several express and local trains daily to travel from Rajkot to Wankaner.

By Road:
There is also a good network of state highways connecting the city of Wankaner. The State Transport Corporation connects Morbi to all major cities and towns of Gujarat. The distance between Wankaner to Morbi is 30 km by road. A convenient, fastest and cheapest way to reach Morbi from Wankaner is by taking a taxi.
Rajko t- Wankaner- Morbi: NH 27: 1 h 54 min (88.8 km)

Wankaner – Morbi:  via NH 27: 44 minutes (29.4 km)

This route has tolls.
Rajkot is 67 km from Ahmedabad and 247 km from Ahmedabad. Autorickshaws without meter can be found for Morbi. It takes only 2 hours to reach Morbi from Rajkot. There are two bus stands here, which are known as new and old bus stands.
References:
Gujarat Tourism

Google Search

Wikipedia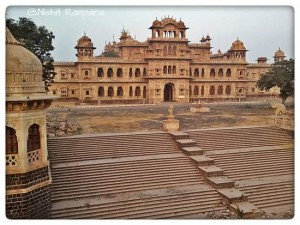 Request:
If you have any information or photographs related to Morbi Brahmani Mata or of any other temple on this website, kindly share with us. We will update the information and the credit will duly be given to you. The purpose of this site is to present all the information about Brahmani Mata Temple in India in one place to ease search and information for her devotees or Bhakts in India and abroad.