Brahmani Mata Mandir–Guda Durga
Location:
Dhanla is a Village in Kharchi Tehsil in Pali District and belongs to Jodhpur Division . It is located 24 KM  from Kharchi, 52 KM from District Pali and  309 KM from Jaipur.  Gajnipura, Isali, Panota, Jojawar, Basani Jojawar are the Villages and  Sadri, Sojat, Pali, Bali are the near by Cities to Dhanla. Dhanla Pin code is 306022 and postal head office is Jojawar.
Address:
Brahmani Mata Mandir,
Guda Durga, Dhanla,
Marwar Junction,
Rajasthan-306022
Phone: 099985 54808
How to reach Guda Durga, Dhanla:

 By Rail:

Auwa Rail Way Station,

 Marwar Junction Rail Way Station: 13 km

By Road :

Pali-Marwar Junction-Dhanla-Guda Durga Brahmani Mata Temple: 2 h 2 min (74.0 km)

Marwar Junction-Dhanla Rd. 58 Min(29.6)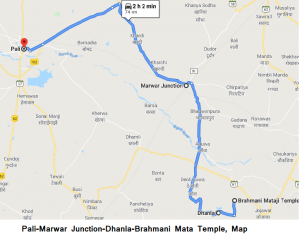 Pali- Dhanla: Bhilwara Rd and NH 162 Ext: 1 h 39 min (65.3 km)

Guda Durga- Brahmani Mata Temple: unnamed roads 13 min.
This route has tolls.

 Bus Stops in Dhanla, Kharchi

Dhanla Bus Stop




Dhanla- 306022: 1.8 KM

Dhanla Nadi bus stop




Dhanla- 306022: 14.4 KM

Roop Nagar Bus Stop




Roop Nagar; 39; Khinwara – Gajnipura Rd; Khinwara- 306502: 7.9 KM

Deoli, Auwa




Deoli, Auwa- 306021:9.3 KM

References:

Patrika.com
www.onefivenine.com
Web search
Google Map
Photo: Mitesh Meghwanshi
Request:
If you have any information or photographs related to Guda Durga, Brahmani Mata or of any other temple on this website, kindly share with us. We will update the information and the credit will duly be given to you. The purpose of this site is to present all the information about Brahmani Mata Temple in India in one place to ease search and information for her devotees or Bhakts in India and abroad.