Brahmani Mata Mandir– Brahmaine, Ballia
Brahmaine is a Village in Hanumanganj Block in Ballia District of Uttar Pradesh. It belongs to Azamgarh Division. It is located 8 KM from District BalliaJira. Basti, Bharatpur Chaubey, Dharhara, Shreepur, Chhorhar are the nearby Villages and Ballia , Reoti , Rasra , Dumraon are the near by Cities to Brahmaine. It is near to the Bihar State Border. Brahmaine Pin code is 277121 and postal head office is Garwar.
The ancient temple of Maa Brahmani Devi, situated at the Brahmine village on the Ballia-Sikandarpur main road, remains a centre of faith among devotees. It is believed that if invoked her with complete faith, the Goddess fulfils her devotees every desire.
The temple swarms with devotees coming from far and wide, not just during the Navaratri days but on various other occasions as well. The divine form of the Goddess is worshipped in a variety of forms for the nine days of Navaratri but the eighth day's Nisha Pujan or 'night worship' has a special significance.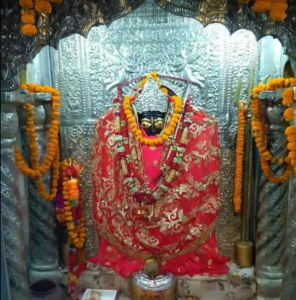 The district situated between the Rivers Ganga and Ghaghra has been the site for innumerable mythological places since time immemorial. There is a description of this temple too in the Puranas. If the information given in the Puranas is to be accepted, then this temple which is situated in the Brahmine village close to Hanumanganj is the place where Maharishi Bhrigu's parents stayed when they came there to attend a yajna.
It was to slay the demon Banasura that Goddess Bhagwati had incarnated. With the grace of Shiva-Parvati and also Sri Krishna sparing his life, this demon had become uncontrollable. Banasura was killed by a partial incarnation of the Goddess in the form of a young virgin. In Southern India she is called 'Kanyakumari' and in Northern parts of India, she is the deity worshiped by the descendants of the Solar dynasty as Goddess Bayan Mata.
Durga Saptashati and Markandeya Purana mention that after being defeated by the kings of Bhavan, King Surath left for this place with some soldiers on the pretext of hunting. Where the Brahmine village is located now, there used to be a forest at the time. This is where the king stopped and asked his soldiers to bring him some water. The soldiers walked a short distance and spotted a lake and they brought water for the king from there. The king was wounded in the battle and pus was oozing from various parts of his body.  When he washed his wound with that water, all cuts and pus filled wounds healed. Astonished by this incident, the king asked the soldiers to take him to the place from where they had brought that water. On reaching there, the king dived into the lake and his complete body became as it was earlier. The king then thought that this definitely was some sacred place. He sent back his soldiers and as he was wandering around on his own, he spotted Maharishi Medha's hermitage. With the consent of the Maharishi the king started living in his ashram.
A few days later there came a Vaishya named Samadhi whose family, in order to usurp his wealth, had thrown him out of his own home. King Surath and Samadhi asked Sage Medha for a method to find peace. The sage asked them to worship Adi Shakti.  Thus, focused to Mother Brahmani, King Surath and Samadhi did a penance for three years. Pleased with their austerity, the Mother Goddess incarnated before them and fulfilled their wishes. The spot where King Surath's had meditated became well known as Surha. A small, sole canal/stream or waterfall came to be known as 'Kathahal Nala'. After getting back his kingdom, King Surath of the Solar dynasty built temples for Mother Veerani  and Brahmani.
 Address:
Brahmani Mata Mandir,
Brahmaine, Ta. Hanumanganj,
Dist. Ballia, Uttar Pradesh 277121
How to Reach Brahmaine:

By Air:
The nearest airport to Ballia is
Patna Airport

Varanasi Airport

By Rail:
Train connectivity to major cities of India like Delhi, Mumbai, Kolkata as well as to Lucknow, Kanpur, Agra, Varanasi and Allahabad via many trains is available. There are two daily Rajdhani Expresses are connecting the town. The nearby railway stations to Brahmaine are:
Ballia Rail Way Station,

Sagarpali Rail Way Station

By Road:
Ballia is well connected by road with major cities like Varanasi, Patna and Gorakhpur.
Hanumanganj: 4 KM Lucknow : 395 KM
Varanasi – Brahmaine :

NH 31: 4 h 37 min 166 km




via Rasra Kasimabad Marg, NH 31: 4h 53 min 165 km

via NH 31 via Varanasi Ring Rd

4 h 22 min (168.7 km)
• Patna – Brahmine : 5 hours 20 minutes (146.2 km) via NH31
via NH 922: 4 h 40 min (131.6 km)

One can reach Ballia via road by any of these routes: Varanasi, Gorakhpur, Kanpur, Agra, Varanasi and Allahabad by road. The state bus corporation UPSRTC is the primary road transport.
Bus Stops in Brahmaine, Hanumanganj
Tikhampur Bus Stop




Roopnagar Tikhampur; Ballia- 277001: 4.2 KM

Bus Stand




Ballia Flyover; Ballia- 277001: 5.1 KM

Badsari Chatti Bus Stop




Garhwar Ratsar Akail Marg; Badsari; 277121: 14.7 KM

Balesara Bus Stop




MDR150E; Balesara- 277121: 20.1 KM

Places of Interest:

Dadri Mela

Dadri Mela is the second largest cattle fair of India, held 5 km from Ballia in a town name Dadri. The fair starts with people taking a holy dip in the River Ganges on the full moon of Kartik Poornima (October–November). This fair is held annually in the honour of Dardar Muni, the disciple of Maharishi Bhrigu.

The one-month-long fair is organized in two phases. The first phase starts ten days before the onset of Kartik Poornima, during which traders bring some excellent breeds of cattle from across India for trading. And the second phase has various cultural programs and the local traders sell various items in their makeshift shops.

Surha Taal

Surha Taal is a famous sanctuary about seventeen kilometres away from Ballia. Here one can see many migratory birds from Siberia and other colder regions. Most of these migratory birds are visible in the winter months. The best time to visit the sanctuary is early in the morning when one can spot many different species. 

Temples:

These temples are greatly significant to the local people – Bhrigu temple and Ballia Baleshwar temple which  is famous for its big ghantas or bells.
References:
Jagran.com

Photo: Rahul yadav

www.onefivenine.com
Video Link:
https://www.youtube.com/watch?v=xf2Is5iC0H0
https://www.youtube.com/watch?v=lkdCqRavzMI
https://www.youtube.com/watch?v=UiC6yZgp0R0
https://www.youtube.com/watch?v=sgfpbXDvHB4
https://www.youtube.com/watch?v=qzi4ufoQ6wk
Request:
If you have any information or photographs related to Brahmaine Brahmani Mata or of any other temple on this website, kindly share with us. We will update the information and the credit will duly be given to you. The purpose of this site is to present all the information about Brahmani Mata Temple in India in one place to ease search and information for her devotees or Bhakts in India and abroad.